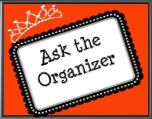 I had Rebecca from
The Copper Brick Road
ask me yesterday on Twitter if I could give her ideas on how to organize her plastic containers. Along with trying to answer her question, I thought it would be fun to do a segment called, "Ask the Organizer". So if you have questions you want to ask me about how to organize something specific, write them down in the comments and I will try my best to answer one of them a week.
This was own I organize the plastics in my own house, so hopefully it may give you some ideas for your own.
You can find the cool spin around plastics containers on my
Amazon store

.
Thanks Rebecca for asking the Organizer! (see what you started?...LOL)