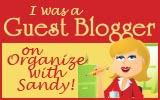 I have some wonderful guest bloggers coming up who are going to give me some interesting material, I can hardly wait.
But I wanted to ask some of you if you would be interested in submitting an idea on how you organize something in your life and I will pick a future guest blogger from your submissions.
Just give me an idea of what you would like to write about and a link to your site in the comment section. I will announce a winner to be my guest blogger next Monday. Then you can submit your post to me and I will get it up in the next few weeks.
Thanks!