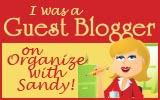 I have decided to have some guest bloggers do some postings on my site. These are ladies that I think are fantastic and I love following their blogs, but I also want you to meet the bloggers behind the blogs.
Stesha is like super mom!! Not only does she have 5 children, she is pregnant with twins and on bed rest. Hello out there....how many of us could handle that? But she keeps her sanity, her family and her blog;
Hot Chocolate Caramel Mocha
in tack and takes us along with her into her world. Plus the fact that she has been soooo nice in the blogging world to me!
As mom's we all handle our routines differently. Notice some of the things that help Stesha to keep her world working. She keeps her cool (not easy to do), she has a routine planned out. Everyone knows their roles and how they need to fit together in the piece of world. The kids take on responsibility and are able to handle help out. (Don't miss that she or her hubby irons their kids clothes!!! Oh my gosh...I am like on my knees!! Just unbelievable to me!!) She is blessed with what must be an amazing husband and sounds like she handles it all with some humor. You go girl!
Thank you for being my first Guest Blogger!
When Sandy asked me to be a guest blogger on her blog I was so honored. Then reality set in and I began to ask myself several questions. Where do I begin? Do they really want to read about another large family? Of course, all of this was utter nonsense. Today I will give you a glimpse of a typical morning with our family of 7 soon to be 9.
My husband Michael and I have 5 children. We have 2 girls ages 3 and 1, and 3 boys ages 11, 4 and 5. Also, I am currently pregnant with twins due in several more weeks. As you can imagine life for us can be hectic, but very manageable.
If I could use two word to describe my family, they would be laid back. People ask me all the time how am I so calm with such a large family, and I always say trial and error. You make the biggest mistakes with the first and then as more children are added to your family you begin to realize that children, like life are very unpredictable.
A typical morning for us begins at 5:30 AM. The alarm sounds and no one moves. The snooze button is hit more often than not. Around 5:45 AM I will finally wake myself and our oldest son and point him in the direction of the bathroom. After he is finished in the bathroom, I will wake the younger 2 boys. One needs to get ready for kindergarten and the other for daycare. Around this time my husband is waking up also. Since I am currently on bed rest, the bulk of the work is done by him.
Around 6:00 AM the younger boys have finished brushing their teeth and washing their little faces, so now it is time to wake the girls. The girls both attend daycare. The oldest girl goes to the bathroom to do her girly things and the 1 year old is placed in the bed with me so I can comb her hair. After combing her hair, my husband will take her into the bathroom to brush her teeth and wash her face. Then she comes back to the bed with me, where I get her dressed.
It is around 6:30 AM now. The boys are dressed at this point because all clothing is ironed by either my husband or myself the night before. The boys will then come into the room so I can look them over and make sure everyone has on their belts, no toothpaste is left on their faces, lotion is applied and they have their jackets, backpack, etc.
At 7:00 AM the hubby will go outside to warm up the car, because it is still cold here most mornings. This also lets the children know that they have about 15 more minutes before it is time to load up. The girls are now both dressed. Our oldest daughter dresses herself, so after I comb her hair she is ready to go, usually she likes to wear her hair in a bun with a ribbon. Pretty easy and simple for me to do.
On the weekdays the children don't eat breakfast at home, they like to eat with their friends at school or the daycare.
Around 7:15 my husband will give the 2 oldest boys their lunch money and make sure that the youngest children each have their bags for daycare. At this time we are saying our goodbyes and telling each other to have a wonderful day as hubby begins to load them into the car.
My husband or myself will scan the house to make sure that nothing is left behind before he leaves. Off they go. We only live 5 minutes away from the daycare so they usually have a smooth drive. All the children are unloaded at the daycare, even the oldest who attend school. The bus will pick them up from the daycare in the morning and drop them off in the afternoon. Don't you just love small town benefits?
It should be around 7:30 AM because my husband has to be at work for 8:00 AM. He only works 20 minutes aways, so he has plenty of time to get to work.
On a typical weekday morning I would say it takes our family 1.5 to 2 hours to have everyone up and dressed and at their destinations on time. You have to remember every morning is not typical, but for the most part they are.
So there you have it. A morning with us!
Stesha Sims
http://www.hotchocolatecaramelmocha.blogspot.com
--
Stesha Sims
http://www.hotchocolatemocha.blogspot
Twitter
www.twitter.com/hotchoccarmocha